Some nights, things happen that my logical inner adult knows should not be explicably able to happen, at the very least not all by themselves. Small things, to be sure. But what's a small thing, really? Isn't there an entire motivational pocket-sized book series dedicated to helping us not sweat those?
If not fear, at the very least, heightened awareness of the unknown is a constant state of me-ing.
Maybe when other adults notice them, their maturity or subduction of imagination simply rights the minor discrepancy so that they can move on, nary a stride broken. For me, that pesky little blonde girl tugs at the bottom of my subconscious, right about where it brushes the carpet, hiding dust bunnies the Dyson missed.
I'm looking at my nightstand. There's an empty box of tissues upon it, and next to it, lain flat as a bed sheet, a single tissue; first in the box, last to emerge. I think about the mild surprise when that last tissue pulls free of the box without the resistance that the rest of its comrades have accustomed your fingers to meeting. I know that I didn't use the last tissue, and Blue Eyes has this backwards aversion to tissues, so I know he wasn't the perpetrator even before the question formed on my lips. Yet here the last tissue sits, removed from its box, empty much too soon, I mutter to the little blonde tugger. I'd remember having pulled the last tissue.
Only I don't.
Tonight, after having worn Mangie's wedding set all day, I reluctantly remove it and place it in a ring box on my night stand. Its numerous diamonds wink at me under the lamp light, throwing tiny, luminescent nicks across the dark wood finish.
I brush Papa's YMCA badge with the pads of my fingers. After he left us last year, Mangie asked what of his I'd like to have. I asked for this. He was so alive, he practically glowed. One could rightly warm her hands at his fire, his light. He danced, and worked out at the YMCA, and tended his garden. This badge sits on my nightstand, so that he might tell me goodnight always. My mind wanders to the times he used to tell me before flying or driving or doing anything scary, "God, is flying this plane", "God is driving this car", and although we were raised without any religion to speak of, Papa's god always brought me a soft kind of peace, a spoken protection… I pad to the bathroom to perform my nighttime ritual of sneaking up behind Blue Eyes noiselessly, circling his waist with my arms as he stands at his sink, my hands clasped at his belly, my head on his warm shoulder.
As I return to begin disassembly of the elaborate adornment of decorative bed pillows, I notice out of the corner of my eye that the motion-activated light that stands hanging guard above the staircase, illuminating anyone on the landing, has almost faded to black. Just before it sleeps, it turns and comes back, the curled mahogany banisters and white rails thrown full bright across its flood. From where I stand at my bed I've assured at least 15 feet of space between any motion and the white box that announces it.
I approach the top landing, just outside the double doors to our bedroom, and look down into the case of steps. Nothing.
I push down on the override rocker, bidding the light to fade. It does as I ask. As I lift a foot to climb into the high-set four poster, I see the glow burning again, coming up slowly from a still darkness. It stays, watching me.
Papa.
Mangie was right. Papa is here.
For the first time, I am not afraid.
"God is flying this plane"… Papa. Papa was flying those planes, driving those cars all along. And now he always will.
Welcome to the
FRESH FACE FRIDAY BLOG HOP!
Rules for hopping:
1| Follow your host & co-hosts (first 3 links), pretty please! 
2| Link up your blog's homepage or Bloglovin' page.
3| Hop around, meet new bloggers, and leave them love!
4| Have fun? Spread the word and share this blog hop with your friends!
5| Want to be a co-host? Click here for more info! 
Grab a button and share the blog hop love!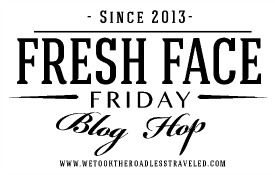 Tweet about this blog hop!
Tweet